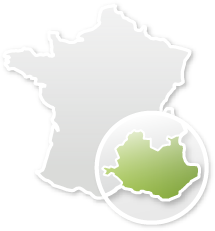 In 2013, the various stakeholders in the cosmetics industry in Provence decided to develop their know-how and their innovations, as well as the Provençal traditional heritage (in the Provence-Alpes-Côte d'Azur / PACA region and the adjacent departments of Drôme, Ardèche and Gard).

Thus the AUTHENTIC PROVENCE association was born and its collective brand created.
Our convictions
We believe in supporting our region's economy by favouring short local channels, developing a local supply chain of raw plant materials, and consolidating our local processing facilities.
We view as key principles the sustainable development of our lands, the traceability of our raw materials, and the reduction of the carbon footprint.
We intend to pool our strengths in a complex economic context in order to increase the revenues of the local cosmetics industry and related activities.
Our goals
Practically, the goal of Authentic Provence is twofold:
▶ For the producers
Bringing together the stakeholders in the cosmetics business in order to boost and support products that are designed, manufactured, and packaged in Provence:
Highlighting Provence's iconic ingredients
Promoting local tradition and expertise in a highly competitive worldwide context
Making the 'Made in Provence' designation more appealing, especially abroad, as a land of fragrances, authentic nature and quality.
We are proud of our local know-how and agriculture, which we strive to promote and support.
▶ For the consumers
The AUTHENTIC PROVENCE brand name and its logo on the product's package allow consumers, in a fully transparent and traceable way, to recognize and select our natural Provençal cosmetics.
The AUTHENTIC PROVENCE association is hosted by La Cité du Végétal, in the Enclave des Papes area, near Avignon. All parties involved in production – cosmetics brands, manufacturers, farmers and ingredients suppliers – have to be members and pledge to follow Authentic Provence charter.